The 2017 Dodge Charger: Speed Meets Safety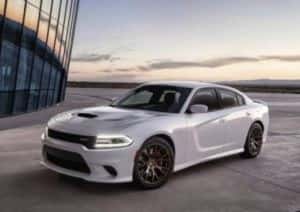 With the introduction of the 2017 Dodge Charger, the automaker was able to snag a top safety rating. While this news may not exactly be welcome to those who like their Chargers lean and mean, it could lead to the car becoming more tempting to other types of car buyers, ones who have families.
The 2017 Charger is available as a four-door coupe. This design feature allows Dodge to offer car buyers the power and performance of the classic muscle car combined with the passenger convenience of a sedan. Dodge is giving car buyers the opportunity to upgrade their Chargers with a 370 horsepower 5.7-liter Hemi engine or a 485 horsepower 6.4-liter Hemi V-8 engine. Those who are highly interested in speed can even purchase a Charger that's equipped with a supercharged 6.2-liter V-8 engine that produces 707 horsepower. With this engine, the car's top speed is 204 miles per hour, and it can reach 60 miles per hour in a mere 3.7 seconds.
A 292 horsepower 3.6-liter V6 engine comes standard with the car model as does an eight-speed automatic. Rear-wheel drive is standard while all-wheel drive is an optional upgrade. Amenities like a touchscreen audio system, power operated driver's seat and keyless ignition is included with the Charger. Heated seats, an infotainment system, and 18-inch alloy wheels are available upgrades.
Dodge is currently in the unique position of being able to offer consumers everyday cars with big engines while other carmakers are shifting their focus to smaller vehicles. According to Tim Kuniskis, the head of Dodge's passenger cars division, the Charger, and the Challenger account for 40 percent of the country's total muscle car sales. The Ford Mustang and the Chevy Camaro are Dodge's main competition in this category.
Along with offering car buyers a big engine, the 2017 Dodge Charger features better handling, more responsive braking and higher fuel efficiency than last year's model. The Charger has also caught the attention of the Traffic Safety Administration by earning five stars for its many safety features.
With the five-star safety rating, the Charger has received the vehicle evaluation program's highest single safety rating. Not only that, but the car model has also managed to achieve the five-star safety rating for both the all-wheel and rear-wheel editions.
To receive this ranking, Dodge is offering the 2017 Charger with an abundance of high-tech safety gear. For instance, car buyers can purchase a vehicle that has a collision warning system. This advanced system features alerts and autonomous braking. In fact, if warranted, it will bring the vehicle to a complete stop. A lane departure warning system and lane keep assist ensure that drivers stay on the road and in the proper lane. Blind spot monitors are available with the car model as is adaptive cruise control. Car buyers can also purchase the Charger with a rear cross-traffic alert and a rearview camera.
While gearheads usually focus their devotion on a car's performance, most will appreciate the added safety features of the 2017 Charger since they make it easier to bring the family along for every ride.