The 2017 Dodge Challenger SRT Demon Packs Fantastic Power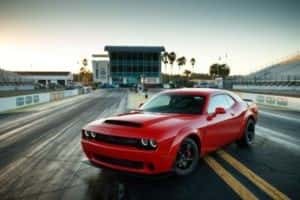 Though the Dodge brand has been known to provide drivers with family-oriented vehicles, the Dodge Challenger SRT Demon is anything but accessible. Standard equipped with the only seat, it is a care made for a select few. With no passenger seats, and by extension no passengers, this vehicle is designed for solo drives and specialized performance. Its unveiling turned heads in the automotive world, and fans of the brand were incredibly excited when the vehicle's details were revealed.
The car sets itself apart in terms of the engine as much as it does in the initial interior arrangement. The Demon features an 840 horsepower and 6.2-liter supercharged V8 engine. This made history as being the most impressive V8 engine to ever be put inside a relatively ordinary production car. This means that the Demon has the most power of any factory-produced muscle car in history. Previously, the record was held by the Dodge Challenger Hellcat, which clocked in at an impressive 707 horsepower.
The Demon can't seem to stop breaking records either, as it has already set the record for fastest quarter-mile drive by any factory production car in history. As certified under the National Hot Rod Association, the Demon began at a dead stop and then made the entire drag strip drive in just under 10 seconds. On top of that, the car also has the fastest time for going from 0 to 60 of any production vehicle. Drivers should be prepared, however, for this type of acceleration also means that the car has the highest G-force of any other production vehicle, which can feel incredibly disorienting for those not used to it.
Though this may seem like it's already enough for fans, the Demon continues to impress by also setting the record for being the first production vehicle that is able to accelerate so fast and so hard it is able to lift its front wheels up off of the road. This feat was certified in the Guinness Book of World Records, and the record showed that the car's front wheels were able to stay in the air for three feet. Though the car's performance is incredible, Dodge is only planning on releasing 3,300 of the vehicle. This extremely limited run means that it is not meant for everyone, and those who have a certain penchant for the car's intended style of driving will have a lot to look forward to.