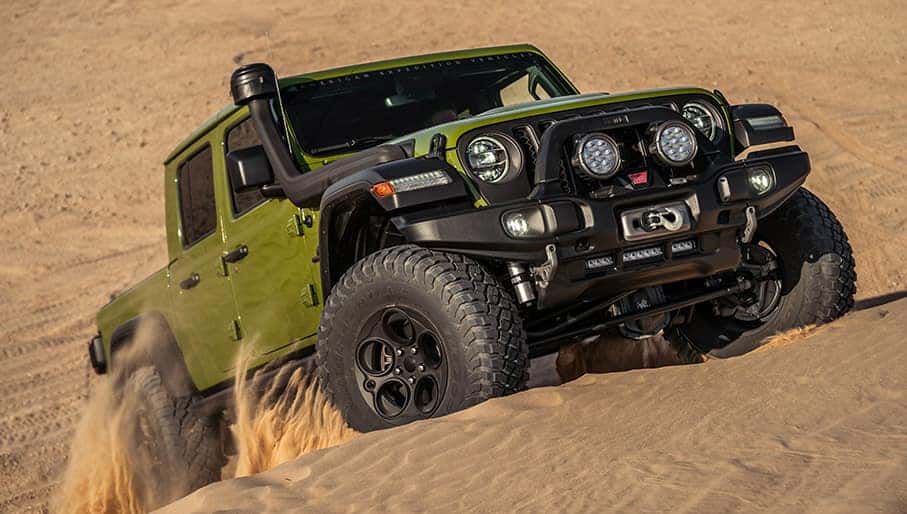 Gulfgate Dodge Chrysler Jeep Ram has partnered with the famous American Expedition Vehicles to bring you some incredible upgrades to the already powerful Jeep Gladiator Overland. But what is the Jeep Overland, and what is AEV? Find out more about them both with Gulfgate Dodge Chrysler Jeep Ram below, and how they're bringing a new way to tackle off-road for Pasadena drivers.
What is American Expedition Vehicles?
AEV has over 40 years of experience providing aftermarket parts that are designed to handle the most aggressive and demanding off-road conditions. They help to create different models of vehicles that are ready to leave the lot with several powerful modifications. AEV also provides aftermarket parts that you can select for yourself and perform these modifications on your own. These can be new bumpers, electronics, lighting systems, snorkels, powertrains, wheels, and so many more. And because of their commitment to quality, Gulfgate Dodge Chrysler Jeep Ram entered into a partnership with American Expedition Vehicles to provide them with rugged modified vehicles.
Tackling Overland Vehicles and Safety
When it comes to overland vehicles, such as the Jeep Gladiator Overland and the Jeep Wrangler line, having safety for when the unthinkable happens is important. While they're able to handle most rocky, muddy, uneven terrain, sometimes a vehicle can end up stuck. Seriously stuck. Having a winch in those moments is often your best bet to get free, however, sometimes the load can be so severe that it will exceed the safety limits of a standard-issued winch. That is where AEV and their snatch block can come in handy.
To quote AEV's own description of their product, this "virtually bomb-proof" is capable of working with traditional steel cables and synthetic winch lines have a maximum breaking strength of 52,000 pounds and a working load limit, the maximum allowed weight on a rigging, of 13,000 pounds. Combine this with Jeep Gladiator's already impressive off-road capabilities you can handle any trouble that you might get into while exploring the outdoors.
What to Expect from the Jeep Gladiator Overland
On top of all the other benefits that you can expect from the Jeep Gladiator, when you upgrade to the Overland Trim option, you get additional standard features such as:
All Sport S trim features
Uconnect® 4 Infotainment interface
7-inch touchscreen display
Overland exclusive cloth upholstery with embroidery
18-inch Granite Crystal aluminum wheels
This is in addition to the standard 3.6L Pentastar® V6 engine with 285 hp that you can expect is able to handle nearly any hazardous condition you might encounter.
User-friendly controls
Waterproof push-button start
Available heated steering wheel
Available heated front seats
Five-foot cargo bed
Removable body and roof panels
Ample storage space
Upright Wrangler-esque dashboard
And much more!
Let Gulfgate Dodge Chrysler Jeep Ram Help You Find Your Off-Road Vehicle
Now that you know more about the Jeep Gladiator Overland, and the partnership between Gulfgate Dodge Chrysler Jeep Ram and AEV, you can take your Jeep overland vehicle wherever the wilderness takes you near Baytown. Contact us today to find out more about our partnership and parts, or speak to our finance department to start the car buying process.