Jeep Wrangler Drawing Closer and Closer to Production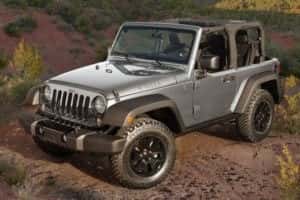 The Jeep has always been seen as a classic American brand, and the professionals behind the famous name have said that they are drawing closer and closer to finally releasing the new 2017 Jeep Wrangler details. This will mark the release of the first new Jeep pickup in more than 25 years. Though representatives still believe that the vehicle is not ready for showrooms, and will not be ready for another year, many fans are excited by the news. Currently, test-drivers are looking forward to taking the production ready prototype for the spin, which sources already believe is on the road for testing and fine-tuning.
A reporter was able to get close to snap a picture of a Wrangler-based truck at an undisclosed location, and many fans immediately noticed that the car looks much different than earlier models. This could be a promising start to the design of the vehicle itself, as it features the vehicle bed from the Ram 1500. The new truck also featured attractively integrated Wrangler wheel arches, arranged to provide drivers with a crisper exterior surface. The sides of the bed also meet with the vertical roof pillars at an attractive 90-degree angle, resulting in a beautifully classic pickup profile. The rear window is meant to fill the space between the two, adding to the timeless effect.
Though the appearance of the new vehicle promises to build on classics and reinvent a few options, there are some functional concerns that are not readily apparent yet. Drivers do not yet know if the roof is going to be removable in any fashion, and it is still not clear if the windshield will be able to fold down like it can with some other Wranglers. The inclusion of holes around the hood where the rubber bumpers for the windshield usually are does seem to hint at their function, though details have not been available yet.
With the standing of the wheels, it is possible that this new pickup may offer a stronger degree of off-road potential. This gives it a leg up over the classic Jeep Wrangler, which is expected to come up on sale later in 2017. With so many developments planned for the brand, it is not surprising that fans of the company are beginning to plan for their purchase. Mudding enthusiasts, in particular, can look forward to what the new Wrangler will be able to provide.