Dodge Challenger's SRT Demon Becomes an Incredible Police Concept Car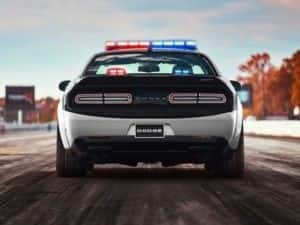 It is no secret that the Dodge Challenger SRT Demon has been dominating headlines for some time now. Designed as both a throwback to earlier American muscle cars and as a personal piece of engineering achievement from the Dodge team, the Demon promises to dominate the highway and provide drivers with an incredible variety of driving options for their recreational needs. The vehicle has been described as incredibly fast and efficient, and its exterior surfacing shows tremendous promise in terms of defining the classic muscle car look. As such, it should come as no surprise that law enforcement professionals are already looking into using this vehicle for their needs.
In the past, law enforcement officials have been fairly creative in the area of implementing various police vehicles in order to provide their officers with the versatility they need to excel in the field. A broad variety of vehicles have graced the lineup for police officer use, including Dodge Challenger RTs and F-250s, but rarely have muscle cars being considered for police use. Though not extensive in practice, there is nothing stopping artists from letting their imagination roam when it comes to developing concept art for an exciting new police car. Through art-based software, artists have already come up with a Dodge Challenger SRT Demon vehicle intended for police use, and it has been turning heads since.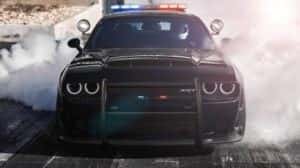 The concept for the Demon builds largely on the original body of the vehicle. There is nothing too new about the chassis or the grill, but it does come equipped with all of the normal features that any patrol car would come with. It showcases standard police gear such as steel wheels, lights, and a push bar. This artistic conversion for the vehicle is versatile, combining practical aspects and clean design that is intended for high-speed pursuits. It may not be best for silent approaches or undercover work, but it can definitely tag down a fleeing vehicle as desired.
Though there are no immediate plans to set this vehicle out on the road, the concept art does show promise in terms of execution. Currently, there are plenty of Dodge Challenger cars on the road to ease that muscle car itch, including the Challenger SRT® Hellcat. However, many car enthusiasts on the force are wondering if the Demon will ever see the road on police duty. Through such attractive concept art, it may not be a far-off possibility.