2017 Dodge Durango Citadel Review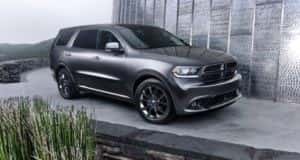 For the past few decades, The Durango has been the flagship of the Dodge SUV market. For 2017, the evolution reaches an epic climax with the introduction of the 2017 Dodge Durango Citadel. This year's Dodge Durango – which is similar in many ways to Jeep's Grand Cherokee, gets an upgrade featuring three-row seating and plush trim with the Citadel edition. Available in three unique trim-levels, including the 3.6L SUV, 3.6L V6 AWD and V8 edition, the Citadel Durango has an option for all consumers.
What's Under The Hood
Leading the team is the Dodge Durango Citadel 5.7 V8. Powered by a powerful, yet surprisingly fuel-efficient 5.7-liter Hemi V8, the Dodge Durango Citadel is considered by many automotive experts to be the most luxurious SUV created by Dodge; and has the features and upgrades to back up these claims.
The talk of the town in most online reviews for the 2017 Dodge Durango Citadel is the powerplant – a smooth sounding and driving 5.7-liter Hemi V8 engine that produces 360 HP and is propelled by an eight-speed automatic transmission. The engine has tons of low and high-end torque, allowing you to navigate highway speeds safely but also enough power to quickly accelerate past obstructions or hazards in the road. One automotive review wrote that "the exhausts note invites comparison to the Dodge Hellcat", which clearly articulates the fact that the Citadel Durango is not your average SUV.
While the engine packs a lot of power under the hood, it does not consume a tremendous amount of fuel, making the 2017 Dodge Durango Citadel one of the more cost-effective SUV's on the market today. Many reviewers are indicating mileage ratings ranging from 26 mpg on highways to 15 mpg in city driving; which is on par with most of its category competitors from other manufacturers. Comfort is enhanced with a solid, yet surprisingly nimble suspension kit; allowing you to navigate all roads you will travel.
What Stands Out
Once you open the doors of the 2017 Dodge Durango Citadel, you'll instantly see why online reviewers are calling this SUV the most luxurious one produced by Mopar in years. Featuring the updated Uconnect infotainment system with touchscreen navigation, smooth interior surfaces and comfortable seating. The three-row seating allows comfortable seating for up to 7 passengers and two-row editions allow seating up to 5 adults. Additional interior upgrades include Bluetooth connectivity, heated seats, bucket front seats, folding rear seat center armrest and navigation system.
The 2017 Dodge Durango Citadel is backed with a 3 year/ 36,000 mile basic warranty with eight-individual exterior colors to choose from including the ultra-attractive Octane Red Pearl. Regardless of the type of SUV you are looking for, you can find a Citadel perfect priced and suited for any application.