2017 Chrysler Pacifica Review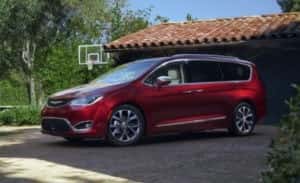 The Chrysler brand has been making tremendous changes within its infrastructure to keep up with the shifting automotive landscape.  More and more major brands and manufacturers are beginning to turn their attention towards electric vehicles and hybridization.  As such, it should come as no surprise that the 2017 Chrysler Pacifica is turning heads, marketed as the country's first hybrid minivan meant for plug-in use.  Having to stay ahead of the competition in a very active and aggressive market, the vehicle shows definite promise and those who had the opportunity to take a look at the way the car handles were pleased with the results.
The vehicle features a combination of elements from previous models to provide drivers with something new.  The FCA's 3.6-liter V-6 gasoline engine makes a comeback, coupled with an electric motor and further unified through the use of a nine-speed transmission.  The combination of elements is meant to make the drive feel familiar while still energy efficient.  Researchers found that the battery-powered electric range could reach 33 miles, allowing the vehicle to operate elegantly and silently in electric mode, perfect for city driving.  The functionality is taken a step further, when the gas-powered engine comes into play, making the minivan perfect for long distances.
Some drivers had the complaint that the vehicle was too quiet in all-electric mode, but the arrival of the gasoline motor definitely did not leave much to be desired.  The handling was very smooth and responsive, and the zippiness of the minivan makes it a particularly advantageous treat for those who want to travel with their family.  The definite presence and comfort that comes with the minivan's handling make it an excellent choice for couples as well, and the interior has been designed to emphasize functionality, especially as more technological advancements become available for drivers to enjoy.
A UConnect phone pairing system is available to improve connectivity between the driver's devices, and there are numerous safety systems designed to optimize handling in difficult conditions.  Things such as lane departure warning systems, a forward collision prevention system and a 360-degree camera visibility system make driving easy and enjoyable.  The cabin is spacious enough to provide the passengers with plenty of personal room for comfort.  A noise cancellation installation also helps keep the interior of the cabin quiet.  Ultimately, families will have a lot to look forward to when they take this vehicle out of the lot.